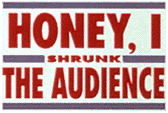 The information on this site may not be reproduced in any form on the Internet without express written permission from EDC.
The screen now says "Inventor of the Year Award" and "Presented Through a Generous Grant from Kodak" with the Institute's logo (a light bulb with two wings surrounding it).
Christy: (Microphone feedback sound) Testing. 1, 2, 3. I don't think this ... Is this thing on? I don't think this thing is on. Can anyone hear me? (Feedback sound)

Everyone: Yes.

Christy: Good, you can hear me. Hi, everyone. I'm Christy Smithers - an assistant here at the institute. We're just about ready for you next door, but before we go in to see today's presentation, here's a message from my boss, the head of the Imagination Institute.
The screen changes to a picture of Dr. Channing surrounded by two signs that say "OPEN HOUSE." The picture changes from him smiling to with his hair messed up and his glasses crooked and then back to him smiling.
Dr. Channing: Hello, Dr. Nigel Channing here. Welcome, welcome, welcome to our annual open house. It is my pleasure to have you here, just as it is your pleasure to be here. For over a hundred years, the Imagination Institute has honored the world's leading thinkers, dreamers and innovators with the Inventor of the Year Award.
Pictures of some past recipients of the award appear on the screen. Some of those featured are George Washington Carver, Thomas Edison, Alexander Eastman and Walt Disney. The next slide shows Professor Wayne Szalinski in front of chalk board that is covered with mathematical equations. After that, slides showing some of his inventions are shown.
Dr. Channing: This year's recipient, Professor Wayne Szalinski, holds patents on numerous unique, one-of-a-kind inventions including the hands-free phone helmet, the hands-free personal grooming helmet and his newest creation, the video camera helmet, which, if I am not mistaken, is also hands free.
Now we see Szalinski's greatest invention, the shrinking and enlarging machine. A photo from "Honey, I Shrunk the Kids" shows Nick in the giant bowl of cereal. The next photo shows Adam towering above the Las Vegas casinos in "Honey, I Blew Up the Kid."
Dr. Channing: But what brought Professor Szalinski to our attention was not headware, but his incredible shrinking and enlarging machine. Although he's had some small setbacks, he has demonstrated a truly enormous gift for imaginativeness. Today, before receiving his award, the good professor will demonstrate for us his latest inventions, all developed right here at the institute.
Now, a photo of Szalinski beside his award plaque appears. The next section is about wearing the safety goggles (the 3-D glasses). Pictures of four Institute assistants are shown without their glasses and then with the glasses. The sign behind them says "REMINDER" and then changes to "SAFETY GOGGLES." Dr. Channing then appears wearing his glasses.
(572 K) Dr. Channing: Before we begin, I have one special reminder. Do remember, safety goggles must be worn during the presentation. But, please, for your safety, do not put on the safety goggles until you are safely seated safely inside the theater safely. (Mumbles) Well, yes, right.

Now, please gather up your personal belongings and move all the way into the auditorium. See you in a few minutes. Cheerio!
The screen now says "Presentation Beginning" and has a large red arrow pointing to the left.
Cast Member: Ladies and gentlemen, in just a few moments the curtains to your left will open and you will be entering our auditorium. We would like to remind you that parts of our presentation do become very loud and may frighten some younger children so we ask that you please use your discretion. As you do enter the auditorium, we ask that you please select a row, keep your party together and continue moving all the way across the row you selected. Please walk all the way down the row to the far end of the auditorium filling in each and every available seat. Do not stop in the middle and make the others climb over the top of you. As Dr. Channing mentioned, please do not put on your safety goggles until instructed to do so by an Institute host or hostess. And if you are wearing prescription lenses, our goggles will fit comfortably right over the top of your own. Thank you and enjoy the presentation.
We now move into the theater, find a row, move all the way across, sit down and wait for the show to begin.
---
HISTA Pre-Show 1 | HISTA Pre-Show 2 | HISTA Script 1 | HISTA Script 2
JII Ride Script Part 1 | JII Ride Script Part 2 | Image Works | 3D Films | JII Fact Sheet
Return to: 3D Films | JII Introduction | EDC Gateway
---

If you have any questions, comments, or corrections regarding this site, please contact the EDC Webmaster.
© EPCOT Discovery Center
Created May 23, 1997 / Last modified September 16, 2001
---
DISCLAIMER: Use of the EDC site signifies your agreement to the terms of use detailed in the Complete Disclaimer. This is a fan based site and is to be a source of entertainment and information. This site is NOT affiliated with or endorsed by the Epcot theme park and The Walt Disney Company. All photos presented within this site are © Copyrighted by EDC unless otherwise noted.