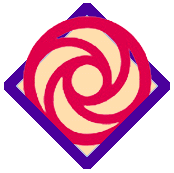 The information on this site may not be reproduced in any form on the Internet or any other medium without express written permission from EDC.
Moving out of the scary world of literature, we find ourselves backstage at the theater. A large "World Premiere Performance" marquee is lit with flashing lights. A set of three rotating signs below it on the right say "Dance," "Music," "Tears," "Laughter," "Applause," and "Song" among others. On the left, Figment, dressed in a tuxedo, is standing amongst various props in front of a make-up table and lighted mirror backstage at the theater. He is holding a mask that is actually Dreamfinder's face. Several different costumes hang from the ceiling above him. A sign announces the act, "A Brand New Show!" Dreamfinder (who is heard, but not seen) sings along with Figment."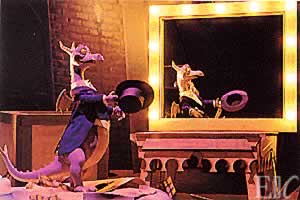 ©Disney
Dreamfinder:
Figment:
Some happy songs
Some snappy dances
Costumes and sets
Spoofs and romances

(Both:) With laughs and tears and footlights all aglow

The sparks ignite, ha!
A brand new show!
Figment:
Dreamfinder:
Some happy songs
Some happy songs
Some snappy dances
Some snappy dances
Costumes and sets
Costumes and sets
Spoofs and romances
Spoofs and romances
With laughs and tears
With laughs and tears

(Both:) And footlights all aglow

(Both:) The sparks ignite

Ha! A brand new show!
Yes, sir!
Dreamfinder is now conducting orchestrated laser lights. Laser produced musical notes, various shapes, and a top hat and cane are projected on the wall. This laser show is actually the test program that came with the laser unit! The sequence that was planned featured Figment dancing & chasing a ballerina about the stage. The test program was probably used instead of creating a new program because it worked with the scene (meaning it didn't look bad).
Figment, now dressed in an astronaut costume, is thumbing for a ride into the world of science - our next stop. We have entered into a tunnel with lighted shapes reflected along the walls and ceiling. The shapes and lines move away from us closer and closer to the end of the tunnel.
Dreamfinder: What about science, science, science, science...? (10 second pause) And what about science, science, science, science...? (repeat)
Up ahead, Dreamfinder, who is wearing a white science lab coat, is turning the crank on a huge microscope which allows him to show us several unusual views of the world around us. The microscope is focused on a large transparent globe. The surrounding screens show the earth, as seen from space, transform into an enlarged view of a water droplet. The droplet falls slowly showing how it hits the surface of a lake and then splashes back up.
Dreamfinder:
Technology, like a newfound potion
Allows us to marvel at mysteries of motion

Water dances where visions begin
Science reveals a life within
After the water droplet has fallen, a microscopic lens is used to show the tiny organisms found living in water.
Dreamfinder:
I'll wind this dial and time escapes
Watch minerals change to crystal shapes
A close-up, enlarged view of crystals growing fills the screens.
Dreamfinder:
Let's look at nature at this speed
From germination, then back to seed
A time-lapse film shows snow quickly melting revealing the ground below. Flowers are then shown growing out of the ground, buds sprout and the flower emerges.
Dreamfinder:
Skyrockets soar towards outer space
Imagine yourself in an infinite place
Fireworks explode on the screens and then the shot of earth as seen from space appears again as the cycle starts over. Moving along the backside of the huge microscope, on the left, is a small window. We can see an animated Figment flying, jumping, falling, spinning, and being blown up (inflated) in the portal.
Up ahead, the words "World's Beyond," "The Known and the Unknown," "Destiny," and "Dreams" are written on arrows pointing in different directions. We continue straight ahead where strips of film fill the background. Dreamfinder is wearing a sorcerer's costume with a turban and cape and is waving his arms over his crystal ball. Figment is next to him looking through a large magnifying glass into Dreamfinder's crystal ball. He and Figment are talking about the wonders of the imagination. As we move our way through this scene, a bright light flashes and our picture is taken. We'll see it at the end of the ride.
Figment: Oh, there are so many places to dream about.

Dreamfinder: We can visit worlds that were, that could be, and those of fantasy and reality.

Figment: What's next, Dreamfinder?

Dreamfinder: Why, imagination can take us over the rainbow and to worlds beyond.

Figment: Boy, I wish I could be an astronaut! I bet I can use imagination to discover all kinds of new things.

Dreamfinder: Of course! It's your key to unlock the hidden wonders of our world.
The vehicle passes through a giant star into the final scene. In the center of the room is an Audio-Animatronic Figment singing while the giant movie film roll that he is standing on rotates as if it were on a movie projector. The 8 screens that surround him each show him using his imagination in different ways. They include (from right to left) Figment dancing on a stage, as a superhero flying through the sky, weight lifting, as a scientist, mountain climbing, horse back riding (actually riding a wooden stick with a wooden horse head on top), sailing, and as a pirate sitting on a treasure chest in the ocean.
Chorus:
Figment:
Imagination, Imagination ... (keep repeating)
We all have sparks
Imaginations
That's how our minds create creations
And oh ...
They can make
Oh they can make
Our dreams come true
Our wildest dreams come true
Those little sparks
Those little sparks
In me and you
Ahhh....

(All:) Imagination

(All:) Imagination

A dream
A dream
Can be
Can be

(All:) A dream come true

(All:) With just one spark

(All:) In me and you

Imagination, Imagination ... (Repeat from top)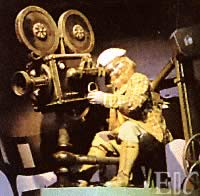 The movie film motif continues into the last room where Dreamfinder is now behind a movie camera. He is supposedly filming the picture that we see on the screen behind him. Actually, it is the picture of us that was taken earlier in the ride. He is reminding us to head upstairs to visit the Image Works after we disembark. A sign showing Figment says, "Follow me to the Image Works."
Dreamfinder: And what about you folks? Imagination is something that belongs to all of us. So, join us now in a magical playground, where technology and your creativity combine to make dazzling new images. Next stop, the Image Works!

Figment and I have certainly enjoyed our Journey Into Imagination with you. And in just a few moments, you'll get a chance to use your sparks of inspiration in the Image Works! The creative playground of the future.
When the attraction first opened, there was a moving belt as guests stepped off the ride vehicles. But because the synch between the vehicles and the belt was difficult (especially because sometimes the vehicles have to stop), they had to remove the moving belt. Also, Dreamfinder used to ask guests to step out to the right, but that announcement was also removed.
Upon exiting the vehicle, we walk along a short walkway painted with bright colors and shapes and return into the atrium in which we entered. A glass elevator and a set of stairs lead up to the Image Works. Or, follow the signs to the right to the 3D attraction.
---
JII Ride Script Part 1 | JII Ride Script Part 2 | Image Works | 3D Films | JII Fact Sheet
Return to: JII Introduction | EDC Gateway
---

If you have any questions, comments, or corrections regarding this site, please contact the EDC Webmaster.
© EPCOT Discovery Center
Created May 23, 1997 / Last modified September 17, 2001
---
DISCLAIMER: Use of the EDC site signifies your agreement to the terms of use detailed in the Complete Disclaimer. This is a fan based site and is to be a source of entertainment and information. This site is NOT affiliated with or endorsed by the Epcot theme park and The Walt Disney Company. All photos presented within this site are © Copyrighted by EDC unless otherwise noted.