The information on this site may not be reproduced in any form on the Internet or any other medium without express written permission from EDC

The information on this site may not be reproduced in any form on the Internet without express written permission from EDC.
Global Neighborhood opened on November 23, 1994, taking the place of Earth Station. The Spaceship Earth post-show exhibit allows guests to "experience first hand how powerful, complex, yet easy-to-use technology can be." The original Global Neighborhood was renovated during the late summer and early fall of 1999 re-opening as AT&T's New Global Neighborhood on November 24, 1999. The simulation ride in the center of the room was replaced with a giant tree made out of cables that change color. The trees roots weave down under a glass floor that features the outlines of the world's continents. Several holes in the tree are provided for guests to peer into and have their pictures taken. These pictures are then shown on video screen hanging from the branches of the tree. In addition, there are several plastic booths which allow guests to navigate through Epcot's new attractions. @ (the 'at' sign) is your hostess on this journey.
Below, you will find a brief description of the five key exhibits the original Global Neighborhood had to offer. The first four still exist in the New Global Neighborhood. The fifth was replaced by the new tree. These descriptions are from "AT&T's Global Neighborhood," a complimentary booklet that was provided for parents and teachers at the Information Desk in 1994.

The Cheshire Cat takes you into the future of television at "Interactive Wonderland." Using your voice to activate commands, you can watch movies, play interactive games and shop - all on your TV screen.
Word for word translations don't always lead to a clear understanding of what's being said, as you learn when interpreting idiomatic expressions in different languages.

With "Communication Breakthrough" you break down the walls of communication with a virtual paddle and, via video link, see the person you're speaking and playing with.

Story-Teller Phone lets the caller choose a fantasy background - such as a herd of wild elephants running through the jungle - so it sounds like he or she is calling from another place.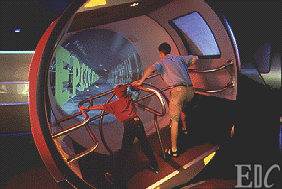 During your simulated cruise on AT&T's fiber optic information superhighway, you experience the constant flow of information - from encyclopedias to thousands of phone conversations to movies-on-demand - that crisscross AT&T's networks at any given moment.
We step onto the platform and see the AT&T logo and "Ride the AT&T Network" flash by. This announcement is heard.
Male Announcer: To start the ride, climb aboard. Then put your hand on the handrail.
Once a hand has been placed over the handprint on the center handrail, we hear this caution.
Male Announcer: Caution. This is a ride. The platform will move quickly from side to side. If you have trouble keeping your balance, are pregnant, or have any conditions which might make standing upon a moving platform difficult, you should not ride. Place your hand on the handrail to start the ride. Lift your hand and the ride will stop.

Female Teacher: Class, kids, everyone! This is going to be so exciting. Cassie, you and your friends keep up back there. Today, we're getting a sneak peak at AT&T's intelligent network.

Boy: Boring.

Cassie: I'm missing the world's surfing championships in Hawaii for this?!

Boy: Surfing?
A door opens allowing a view of the AT&T network (through computer graphics).
Cassie: There's my chance!

Boy: What are you crazy, you're going to get expelled!

Cassie: I'm outta here. (goes through door and jumps on skateboard which turns into computer animated board with face). Whoa!

Board: Don't worry, Cassie. You're inside the world's fastest, most dependable information network. How about a little tour? We can go anywhere!

Cassie: Can you take me to the surfing championships in Hawaii?

Board: We'll see. Hang on! We're traveling around the world along with phone calls, faxes, data transmissions, even video calls.

Cassie: Anybody heading for Hawaii? (pause) New York? We're going the wrong way.

Board: No problem. We're heading to the New York control center.

Cassie: Will this get us to Hawaii?

Board: Of course. Hey, look, there's a fax. Come on, let's follow it!

Cassie: Whoa. What was that?

Board: A western. The network can supply movies on demand.

Cassie: How about popcorn on demand?

Board: Whoa, a cable cut.

Cassie: Now I'll never get to Hawaii.

Board: No problem. Every once in a while we've got to reroute.

Cassie: All of this is great, but can we please go to Hawaii now?

Board: Hawaii, right this way! Hang on, going up.

Cassie: Going up?!

Board: Well sometimes the fastest way someplace is the shortest.
As we ascend, we pass honking geese, hit the satellite and bounce down to Japan.
Board: Going down. We'll hitch a ride with a cellular video conference call.
We see Japanese people talking back and forth through video phones.
Board: Hang on, Cassie, we're almost there.

Cassie: All right! Whoa, splash down!

Board: It's an underwater fiber optic cable. 808? Hey, that's Hawaii. Follow that directory call!

Cassie: Awesome! (shark approaches) Look out!

Board: Don't worry, Cassie. The cable is perfectly safe. X-rays in traffic.

Cassie: Couple of housecalls, huh?

Board: Whoa! Good news. We found the surfing championship! Bad news. Here comes a TV signal that's going to run wild.

Cassie: Wipe out! (TV bits fill cable like a wave) I better get back or I'll be in real trouble.

Board: Don't worry, Cassie. This whole trip only took a few seconds of your time.
Cassie arrives back at the museum.
Female Teacher: Ah, Cassie. Off on a tour of your own?

Cassie: It was amazing!

Female Teacher: Perhaps you'd like to share it.

Cassie: The network is awesome! There's all this data swimming around all over the place. Phone calls, faxes, x-rays, movies!

Female Teacher: Where did you learn all this?

Cassie: Riding the network, of course!
---
Spaceship Earth Introduction | Spaceship Earth Script - Original ('82-86) | SE Script - Cronkite | "Tomorrow's Child" Lyrics
Spaceship Earth Script - Irons | Global Neighborhood | Spaceship Earth Fact Sheet
'Spaceship to Tomorrow' Article | SE Concepts and Construction Page
Return to: EDC Gateway
---

If you have any questions, comments, or corrections, please contact the EDC Webmaster.
© EPCOT Discovery Center
Created October 1, 1996 / Last modified December 19, 2001
---
DISCLAIMER: Use of the EDC site signifies your agreement to the terms of use detailed in the Complete Disclaimer. This is a fan based site and is to be a source of entertainment and information. This site is NOT affiliated with or endorsed by the Epcot theme park and The Walt Disney Company. All photos presented within this site are © Copyrighted by EDC unless otherwise noted.