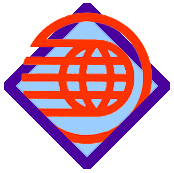 The information on this site may not be reproduced in any form on the Internet or any other medium without express written permission from EDC
Introduction
Spaceship Earth opened on October 1, 1982 and "celebrates communication as the key to human progress and survival." (Walt Disney World - A Pictorial Souvenir © 1984 Disney) "For EPCOT's signature structure, the Imagineers needed an image as unique as the Magic Kingdom's castle. Something that would say, 'Here's a place that's global in scope and futuristic in design.' They made an inspired choice, Spaceship Earth." (Walt Disney World: Past, Present and Future shown during WDW's 20th Anniversary in 1991 and 1992 on The Disney Channel. © 1991 The Walt Disney Company)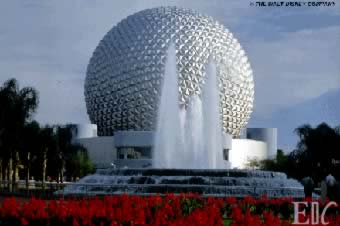 The original fountain with Spaceship Earth in the background.
Imagineers created the Spaceship Earth attraction with the help of science fiction writer Ray Bradbury and many consultants and advisers from Los Angeles' Huntington Library, University of Southern California, University of Chicago, and the Smithsonian Institute. The attention to detail is remarkable. There have been three versions of the attraction over the years. All three of them only differ in narration (and that difference is slight) and in the endings to the attraction. The first version was narrated by Vic Perrin and featured a quiet instrumental song at the end. The second version featured the "Tomorrow's Child" song at the end with Walter Cronkite providing the narration.
As part of the re-Imagineering of Future World's pavilions, Spaceship Earth closed on August 15, 1994. During the renovation, 12 new scenes were added (particularly near the end of the ride), a new musical score was produced, Jeremy Irons took over the narrating duties, and the former home of Earth Station was converted into the Global Neighborhood. The revamped attraction opened on November 23, 1994.
Prior to the Millennium Celebration, minor adjustments were made to some of the video screens in the attraction and the Global Neighborhood was renovated. Please join the EPCOT Discovery Center as we travel through our Spaceship Earth.
1982-86 Original Version - Vic Perrin | 1986-94 Version - Walter Cronkite | 1994 - Present Version - Jeremy Irons
---
Spaceship Earth Introduction | Spaceship Earth Script - Original ('82-86) | SE Script - Cronkite | "Tomorrow's Child" Lyrics
Spaceship Earth Script - Irons | Global Neighborhood | Spaceship Earth Fact Sheet
'Spaceship to Tomorrow' Article | SE Concepts and Construction Page
AT&T Press Releases regarding Spaceship Earth:
Return to: EDC Gateway
---
trips through Spaceship Earth's Information Superhighway since August 1, 1998.
---

If you have any questions, comments, or corrections, please contact the EDC Webmaster.

© EPCOT Discovery Center
Created October 1, 1996 / Last modified December 19, 2001
---
DISCLAIMER: Use of the EDC site signifies your agreement to the terms of use detailed in the Complete Disclaimer. This is a fan based site and is to be a source of entertainment and information. This site is NOT affiliated with or endorsed by the Epcot theme park and The Walt Disney Company. All photos presented within this site are © Copyrighted by EDC unless otherwise noted.