Journey Into
Imagination
Introduction
---
Attractions:

Journey Into
Imagination Ride
Script Part 1

JII Ride Script
Part 2

Image Works

---
Magic Journeys
Lyrics

Captain EO Part 1

Captain EO Part 2

Honey, I Shrunk
the Audience
Pre-Show 1

HISTA Pre-Show 2

HISTA Script Part 1

HISTA Script Part 2
---
Extras:

JII Fact Sheet

---
---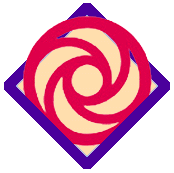 The information on this site may not be reproduced in any form on the Internet or any other medium without express written permission from EDC.
Image Works ('82-'98)
At the top of the stairs or the glass elevator, you can get a great view of Future World through the glass pyramid. Then enter the Image Works where you can easily spend an hour or more with all of the fun and interesting exhibits to play with. The activities are designed to encourage you to use your imagination. Here is a listing of each exhibit:
1. Light Writer: Draw geometric patterns using laser beams. (Removed mid 80s)
1. Figment's Coloring Book: Use projected light to add color to giant pictures of Dreamfinder and Figment. (Replaced Light Writer)
The Sensor - "It Know's You're There":

2. Rainbow Corridor: A tunnel of neon tubes light up as you walk past. As you enter, a particular color is assigned to you and follows you all the way through. When the next person enters, a new color lights up.
3. Image Warp: Moving mirrors produce weird reflections. (Removed mid 80s)
3. Digital Wall: Lights flash while you stand in front of the translucent wall (which is divided up into small squares giving it an interesting computer/digital-like pattern). (Removed mid 80s)
3. Mirage Room: The use of mirrors makes it seem like you can grab onto a three dimensional image of Figment, but when you try to, you can't because it's a mirage. (Replaced Image Warp and Digital Wall)
4. Stepping Tones: Hexagonal colored spots on the floor play sounds when stepped upon.
5. Lumia: Inside a 7 foot diameter ball, sounds of different frequencies and intensities create patterns of light and color. (Removed mid 80s)
5. Optical Illusion: A painted scene showing hot air balloons (including a Mickey balloon and Dreamfinder's Dream Catching Machine) rotate around a cylandrical mirror. The balloons are drawn flat and elongated, but when they are reflected onto the mirror, they appear in perfect proportions. (Replaced Lumia)

6. Dreamfinder's School of Drama: Step onto the stage and follow Dreamfinder's instructions. Through the use of Chroma-Key video technology, a background is added into the picture and other guests can see the finished product. Act out one of these video stories: "Daring Deputies and the Return of Sagebrush Sam" (Western), "Acrobatic Astronauts in Galactic Getaway" (Science-Fiction), or "Enchanted Travelers - Wily Wizard and the Cranky King" (Fairy tale).
7. Making Faces: Your picture is taken and then you get to alter your face with different hairstyles, noses, ears, and accessories.
8. Magic Palette: Paint pictures of Dreamfinder, Figment, or the Journey Into Imagination pavilion using a touch screen and computer controls.
9. Kaleidoscope: Large versions of traditional kaleidoscopes. Rotate the image to create fascinating designs.
10. Pin Screens: Giant tables with thousands of pins allow you to run your hands underneath creating swirls of color.
11. Electronic Philharmonic: Conduct an orchestra by raising or lowering your hands above sensors that will raise or lower the volume of individual sections of the orchestra. If you go back and forth fast enough, you can get all of the sections playing together.
A: Elevator
B: Stairs
C: Escalator Up
D: Escalator Down
Kodak International Newspaper Snapshot Awards: Winners' pictures displayed throughout the lobby
The Image Works closed on October 10, 1998. New exhibits opened on October 1, 1999, in the new downstairs location.
---
JII Ride Script Part 1 | JII Ride Script Part 2 | Image Works | 3D Films | JII Fact Sheet
Return to: JII Introduction | EDC Gateway
---

If you have any questions, comments, or corrections regarding this site, please contact the EDC Webmaster.
© EPCOT Discovery Center
Created May 23, 1997 / Last modified September 17, 2001
---
DISCLAIMER: Use of the EDC site signifies your agreement to the terms of use detailed in the Complete Disclaimer. This is a fan based site and is to be a source of entertainment and information. This site is NOT affiliated with or endorsed by the Epcot theme park and The Walt Disney Company. All photos presented within this site are © Copyrighted by EDC unless otherwise noted.