---
---
---
---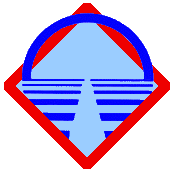 The information on this site may not be reproduced in any form on the Internet without express written permission from EDC.
The Prologue and the Promise Mural

The original exit to Horizons took guests past this giant mural. According to the artist, Bob McCall, the mural represents the "flow of civilized man from the past into the present and toward the future." It depicts most of the earth's nationalities, cultures, and religions. The monuments depicted from left to right are the Pyramids of Egypt, the Obelisk (Egypt), Stonehenge, Pyramids from the Central America/Mexico region, the Parthenon on the Acropolis (Athens), The Quabbat Al-Sakhra (or the Dome of the Rock in Jerusalem), a Thailand temple, a Chinese temple, an African tribe hut, St. Peter's Church, the Taj Mahal, a Torii, the Bali Buddhist temple, the Daibutsu Budda (Japan), Big Ben and the House of Parliament, the Eiffel Tower, St. Basil's in Moscow (and the red tower of the Kremlin in the background), the Washington Monument, the US Capitol Building, and then the City of Tomorrow. Throngs of people from around the world are heading toward that dominating futuristic city.
McCall spent 3 months planning and developing the concept, drew a sketch, and finally the 10 foot master painting. The master was divided into one-inch grids. Slides were taken of each grid and then projected onto the mural canvas. This technique allowed McCall to sketch a perfectly scaled final version. The actual process of painting the mural on the 19 by 60 foot canvas took 6 months. McCall and his wife, Louise, worked on the mural at The Walt Disney Studios in Burbank, CA, finishing it up in March of 1983. It was then shipped to EPCOT for installation into the Horizons pavilion. For some reason, during the mid-80s, the mural was removed and the lighted panels were added to the exit.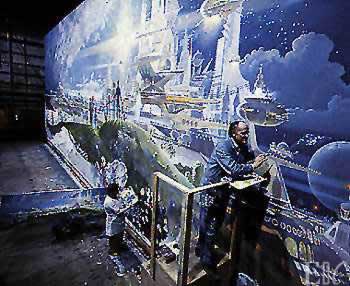 About the Artist:
In the 1960s, Bob McCall covered the launching of America's manned space program as an illustrator for Life magazine. For the twenty years following, he covered almost every space launch. He has done conceptual paintings for many films including The Black Hole, Star Trek, and 2001: A Space Odysey. He has also collaborated with writer Isaac Asimov on the book Our World in Space. Many of his paintings fuse the past with the future like this one for Horizons. One of his paintings, "The Space Mural: A Cosmic View," is on display at the Smithsonian Air and Space Museum in Washington, DC, and is nearly twice the size of "The Prologue and the Promise."
McCall painted himself and his family into the Horizons mural. On the hill holding hands are their daughter Linda along with her husband, children, and dog. Just in front of them are McCall and his wife, Louise. Below the Washington Monument lifting her child in the air is their daughter Cathy and her husband.
---
Horizons Script Page 1 | Script Page 2 | Script Page 3 | Script Page 4
Horizons Exit Mural | Concepts/Construction Page | Horizons Fact Sheet
"New Horizons" Lyrics | "There's A Great Big Beautiful Tomorrow" Lyrics
Return to: Horizons Introduction | EDC Gateway
---

If you have any questions, comments, or corrections, please contact the EDC Webmaster.

© EPCOT Discovery Center
Created July 20, 1996 / Last modified November 19, 2001

DISCLAIMER: Use of the EDC site signifies your agreement to the terms of use detailed in the Complete Disclaimer. This is a fan based site and is to be a source of entertainment and information. This site is NOT affiliated with or endorsed by the Epcot theme park and The Walt Disney Company. All photos presented within this site are © Copyrighted by EDC unless otherwise noted.