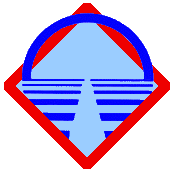 "Tomorrow's Horizons Are Here - Today!"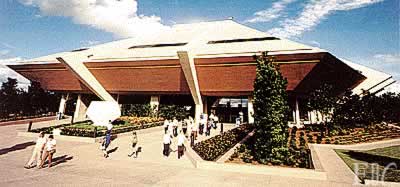 ©Disney
Introduction
Horizons opened on October 1, 1983, and, more than any of the Future World pavilions, it is specifically about the future. Just about everyone is fascinated with the future and what it might hold for us. Horizons is "dedicated to humanity's future. It is a careful synthesis of all the wonders within EPCOT, and applies the elements of communication, energy, transportation, creativity, and technology to a better life-style for the family of the future." (A Pictorial Souvenir of Walt Disney World © 1990 Disney)
Horizons, like all attractions, went through several concept revisions before the attraction premiered. It was originally called Century 3 and then Futureprobe during the planning stages. Detailed information about the original concepts including pictures of the pavilion's construction are available on the Horizons Concepts & Construction page.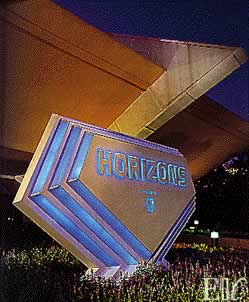 Original Horizons Sign with "Presented by GE" visible ©Disney
Horizons takes guests on a fascinating journey through the world of the 21st century. First, take a look back at what past visionaries dreamed the future would be like from Jules Verne to sci-fi 1920s and 30s comic books to a futuristic 1950s. Then, two giant OmniSphere screens show what scientists and explorers are discovering now, which will be the basis for the future. Next, guests enter the 21st century and view a typical city apartment, a desert farm complete with the scent of fresh oranges, an underwater city, and a space colony. In order to return home to 20th century earth, guests chose the method of travel: on land, undersea, or through space. Upon arriving, guests are left with a final thought, "If we can dream it, we really can do it. And that's the most exciting part."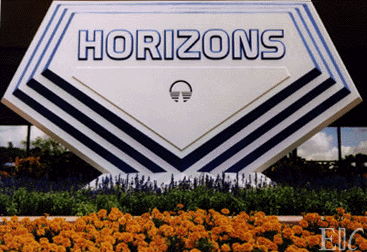 Horizons Sign without GE Logo
General Electric's contract as sponsor of the pavilion ran out on September 30, 1993. Even though GE decided not to continue sponsorship of Horizons, Disney continued to operate the attraction until it was closed in late 1994. Horizons reopened in December of 1995 because both Universe of Energy and World of Motion were about to close for renovations the following month. That would have left only Wonders of Life open on that side of the park. With Test Track finally open, Horizons closed forever on January 9, 1999. On September 23, 1999, both the large and small Horizons signs were removed. In April 2000, Disney and Compaq announced that Horizons would be demolished and in its place Mission: SPACE would be built. The new attraction is scheduled to open in 2003. In the meantime, destruction of the Horizons building could be seen throughout the summer of 2000. A black wall was put up in front of the pavilion and read "Watch this SPACE for a future announcement." Trees were added behind the wall to cover some of the destruction of the building. By October 2000, the land was all cleared and the foundation work for Mission: SPACE had been started.
And now, the EPCOT Discovery Center hopes you enjoy your trip into the twenty-first century aboard Horizons.
---
Horizons Script Page 1 | Script Page 2 | Script Page 3 | Script Page 4
Horizons Exit Mural | Concepts/Construction Page | Horizons Fact Sheet
"New Horizons" Lyrics | "There's A Great Big Beautiful Tomorrow" Lyrics
Return to: EDC Gateway
---

Trips to the 21st Century since August 1, 1998!

If you have any questions, comments, or corrections, please contact the EDC Webmaster.
© EPCOT Discovery Center
Created July 20, 1996 / Last modified November 19, 2001
DISCLAIMER: Use of the EDC site signifies your agreement to the terms of use detailed in the Complete Disclaimer. This is a fan based site and is to be a source of entertainment and information. This site is NOT affiliated with or endorsed by the Epcot theme park and The Walt Disney Company. All photos presented within this site are © Copyrighted by EDC unless otherwise noted.